The aim of every
CertifiedFirst
approved repair facility is to deliver maximum customer satisfaction - the highest level of quality repair work and professional service. You can always expect to receive prompt and courteous attention from a member like us. This includes our commitment to keeping you fully informed about the work being performed on your vehicle while it is in our hands.
To assure that your vehicle is restored to its pre-accident condition, a
CertifiedFirst
repair facility is committed to using properly-trained technicians, modern, well-maintained equipment and premium quality paint refinish products.
Not just any repair center can become
CertifiedFirst
®
To assure your utmost satisfaction, each member must continuously measure up to the program's high standards.
Therefore, the
CertifiedFirst
designation can't be bought. It must be earned. For us to participate in the
CertifiedFirst
Network, our repair center must first meet stringent requirements in the following areas:
Have adequate facilities and equipment
Provide the full range of necessary auto body repair service
Utilize designated quality products (including the use of environmentally friendly options)
Offer a prescribed warranty on the workmanship and paint finish
Consistently achieve high levels of customer satisfaction
Who determines whether the requirements are being met? An independent source, of course!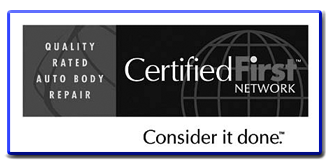 Compliance to
CertifiedFirst
standards is independently verified by:

UNDERWRITERS LABORATORIES INC. (UL)
Every
CertifiedFirst
auto body repair center is visited each year by a representative of Underwriters Laboratories Inc. (UL), a not-for-profit organization retained by the
CertifiedFirst
Network to provide independent source verification and inspection services. UL is responsible for ensuring that the facility conforms to the program standards for customer amenities, auto body repair equipment and more.
---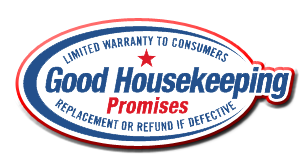 THE GOOD HOUSEKEEPING SEAL
The premium finishes applied by certified technicians at a
CertifiedFirst
Network repair facility have been evaluated by the trusted Good Housekeeping Institute, and have earned the Good Housekeeping Seal.
---

CUSTOMER RESEARCH, INC.
High Customer Satisfaction Index (CSI) levels must be met and maintained, according to surveys conducted annually by Customer Research, Inc. - a company that has specialized in market research for the automotive industry since 1967. Customer Research, Inc. will utilize the methodologies developed on behalf of the
CertifiedFirst
Network by one of the nation's foremost customer satisfaction authorities.
These third-party verification entities assure your utmost satisfaction when you take your vehicle to a
CertifiedFirst
approved repair center.
Everyday, across the nation, thousands of motorists are involved in auto accidents. The question soon becomes, "Where's the best place to get my vehicle repaired properly and returned to me as quickly as possible?"
For most, the auto body repair process is an unfamiliar experience that occurs, on average, only once every seven years. And there's a lot at stake: In many households, a vehicle is among the largest assets owned -- second only to the home. What's more, the family automobile often represents the only means of getting to work or school.
With so much riding on the decision, it's no wonder that many people look to a qualified resource -- a recommendation from a friend, family member or insurance agent -- to help them make the right choice.
Now, there's another great way to identify repair facilities with a reputation for taking good care of their customers: The
CertifiedFirst
Network.
The

CertifiedFirst

Network is comprised of dealership and independently owned auto body repair centers that meet high standards for customer satisfaction, and offer impressive levels of quality, courtesy and professionalism.
In short,
CertifiedFirst
is a name to be trusted in the auto body repair industry...
It is why you can trust us.